Summer Ethnographic Field Methods in Oaxaca (Anthropology 520)


Program Dates: June 11-July 6, 2023
The Center for Latin American Studies invites you to join the Ethnographic Field School in Oaxaca, Mexico! Oaxaca, one of the most beautiful areas in Mexico, is home to more than 16 different indigenous groups that make up 70% of the total population. Their cultural and linguistic differences resulted in the UNESCO recognition of their cuisine as one of the richest in the world.
This year's program will continue with our US Department of Agriculture funded project focused on soil regeneration, heritage seed preservation, and farming practices in the Mixteca Baja region. The project is further enhanced with qualitative research on food security, shifts in culinary practices, and the documentation of traditional food gathering, preparation, and consumption in Ixpantepec Nieves and Santa Maria Atzompa. Seminars are held at the SDSU Oaxaca Center for Mesoamerican Studies in Oaxaca City. The program will provide local communities with textual and online recordings of their food practices and recipes to be shared with communities throughout Oaxacalifornia.
Participants will have a hands-on experience while developing participatory research skills, as we collaboratively engage in subsistence strategies, cultural development, ecological and cultural farming practices, and resource management. The course is open to all majors and supports students with interest in the recognition of Indigenous science in addressing food security, climate change, and cultural preservation.
Spanish proficiency preferred, but not required.
For more information, please visit the SDSU Aztecs Abroad page for this program.
Important Dates
Deadline to Apply: April 3, 2023
Contact
Study Abroad Coordinator
Office: AL-377F
Email: [email protected]
Phone: (619) 594-1103
Dr. Ramona Pérez
Director, CLAS
Email: [email protected]
Funding Opportunities
For a list of summer abroad scholarships provided by SDSU, please visit the Education Abroad Scholarships website.

Program Cost
​The program cost for 2023 is approximately $3,400-$3,800 (price may vary). The price includes 4 weeks of accommodation in a hostel, travel insurance, and College of Extended Studies tuition fees for three units. You are responsible for airfare, ground transportation, and food.

Application Materials
Application Deadline: April 3, 2023
Space is limited. Students are encouraged to apply early. Early applications will be given priority.
To apply, please visit the SDSU Aztecs Abroad page for this program.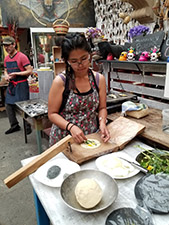 "My field experience in Ixpantepec Nieves was hands-on and allowed me to practice qualitative research. The program made it possible for our group to accomplish many things in just four weeks such as investigating some of the most prevalent issues in the community and developing the skills necessary to pursue future research projects. We produced field-notes based on our daily encounters and observations and conducted interviews with community members, meanwhile developing relationships. Because our group came from a variety of disciplines, including Anthropology, Geography, Public Administration, Public Health, and Latin American Studies, we gained a broader understanding of Nieves through different perspectives. The field school was a great opportunity to become immersed in research and learn what it takes to conduct interviews and obtain data, all while enjoying the beautiful state of Oaxaca! After the field school, I am confident I can apply these various methods to my own graduate level research. Without a doubt, I would recommend the Ethnographic Field School program to both undergraduate and graduate students."

- Juliana Huaroc, Graduate Student MPA and MA in Latin American Studies