News & Events


Upcoming Events
Political Violence and Pathways to Peace in Latin America Lecture Series
This series of 3 public lectures features experts on political violence and strategies for the guarantee of human rights and peacebuilding in Latin America and in the U.S.-Mexico Borderlands. The talks all give accounts of the implications of political violence, the connections between the long- term effects of war to the migrant crises of today, and ways in which local communities organize and respond to efforts for justice and peace.


The Long Journey for Truth in Guatemala
Featuring Freddy Peccerelli
Forensic Anthropologist and the Executive Director at Fundación de Antropología Forense de Guatemala
April 27 | 5 PM | Templo Mayor
Even 25 years since the signing of the Peace Accords that finalized a 36-year long internal armed conflict in Guatemala, the families of the victims continue their long journey for truth to find out what happened and recover the remains of the loved ones who were Disappeared. The Fundación de Antropología Forense de Guatemala (Forensic Anthropology Foundation of Guatemala, FAFG), applies multidisciplinary forensic sciences to search for, recover, and identify the victims and Disappeared persons with a family-centered approach.
This presentation explores the history of forensic investigations in Guatemala, focusing on how respect for families and their ceremonial and religious practices have ensured investigations meet and fulfill their needs and priorities in their search for Disappeared loved ones, using the case study of the San Juan Comalapa Memorial for Victims of Enforced Disappearance and others.



Recognizing the Racism Embedded in the International Refugee System: Experiences From Haiti, Central America, Afghanistan, and the Ukraine
Featuring Karen Musalo, Ph.D.
U.C. Hastings College of the Law
April 21 | 10 AM | Scripps Cottage
The 1951 Refugee Convention and its 1967 Protocol are the foundational documents for our contemporary international refugee protection regime. These treaties set forth the definition of a refugee, and place an absolute prohibition on the return of refugees to persecution. Not withstanding the clear mandate of the Convention, countries of the global north, including the United States, have found ways to circumvent their obligations, and to refuse protection to those fleeing persecution. This talk will explore the practices adopted in the U.S., Australia, and the European Union which undermine the international protection system, with a focus on contemporary issues relating to refugees from Haiti and Central America at the U.S. southern border, Afghans fleeing the Taliban, and Ukrainians escaping the Russian invasion.



The Rogue Border: Legal and Political Violence of Border Enforcement in the Age of Asylum
Featuring Jeremy Slack, Ph.D.
University of Texas, El Paso
March 23 | 5:30 PM | PSFA 325
The U.S. Mexico border has undergone a dramatic transformation. Since 2014, when women and children leaving Central America began to request and receive asylum there has been a shift away from individuals crossing the border and attempting to evade detection and live and work in the United States without documentation. This has led to more people seeking to turn themselves in to a Border Patrol agent, to begin the process for applying for asylum rather than evading detection. This talk will explore how border enforcement has essentially inverted its role from preventing people from ostensibly "breaking the law" by entering the United States without authorization, to instead focus on preventing people from accessing their legal right to asylum.
Co-sponsored with the Hansen Peace Chair, the Center for Human Rights, International Security and Conflict Resolution, the Department of Political Science, and LASSO.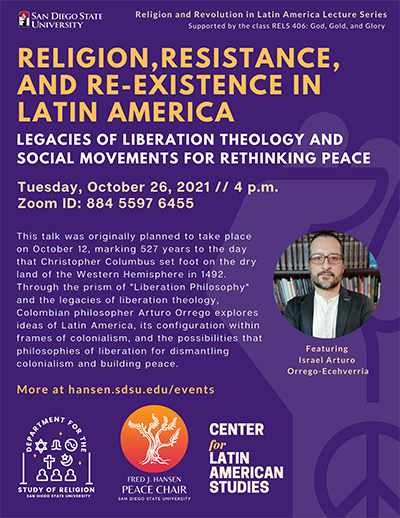 Religion, Resistance, and Re-existence in Latin America: Legacies of Liberation Theology and Social Movements for Rethinking Peace
Featuring Israel Arturo Orrego-Ecehverria
Tuesday, October 26, 2021
4PM
This talk was originally planned to take place on October 12, marking 527 years to the day that Christopher Columbus set foot on dry land of the Western Hemisphere, in 1492. Through the prism of "Liberation Philosophy" and the legacies of liberation theology, Colombian philosopher Arturo Orrego explores ideas of Latin America, its configuration within frames of colonialism, and the possibilities that philosophies of liberation for dismantling colonialism and building peace. The lecture will also consider Latin American "identities" and the relation with diasporic communities in the United States, and the fraught relationship between United States imperialism and the intimacies of connection between the U.S. and Latin America.
Israel Arturo Orrego-Ecehverria is professor of philosophy, theology, and education at the National University of Colombia-Distance and the Free University of Colombia. He is co-leader of the research group Tlamatinime and the Center for Education for Development. Orrego is on the board of directors for the South American Association of Philosophy and Theology. He is the author and co-author of various books and articles, mostly focused on Education for Development from a Latin American perspective, political ontologies, and philosophy of liberation.
Part of the Religion and Revolution in Latin America Lecture Series, Supported by the class RELS 406: God, Gold, and Glory
Cosponsored with the Hansen Peace Chair and the Department for the Study of Religion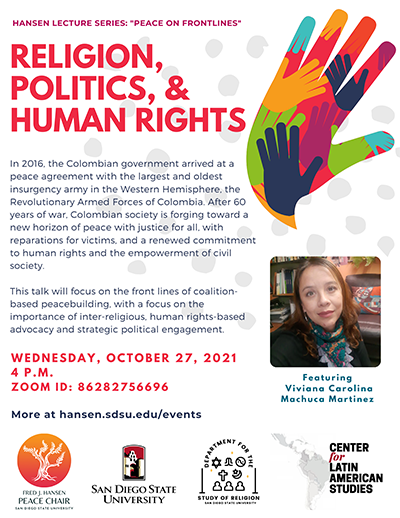 Religion, Politics, and Human Rights: Challenges for Building Peace in Colombia
Featuring Viviana Carolina Machuca Martinez
Wednesday, October 27, 2021
4 PM
In 2016, the Colombian government arrived to a peace agreement with the largest and oldest insurgency army in the Western Hemisphere, the Revolutionary Armed Forces of Colombia. After 60 years of war, Colombian society is forging toward a new horizon of peace with justice for all, with reparations for victims, and a renewed commitment to human rights and the empowerment of civil society. This talk will focus on the front-lines of coalition-based peacebuilding, with a focus on the importance of inter-religious, human rights-based advocacy and strategic political engagement.
Viviana is the Director of Inter-institutional Relations and Advocacy at World Vision Colombia, and is a civil society representative and advocate in areas of Youth and Child Empowerment and Protection with the National Family Welfare System. She has degree in Theological Sciences and holds an MA in Latin American Philosophy, with emphasis in Human Rights, Peace-building, and Gender Studies.
Part of the Hansen Lecture Series: "Peace on Frontlines"
Cosponsored with the Hansen Peace Chair and the Department for the Study of Religion

Indigenous Women in Activism
Wednesday April 21, 2021
4:30 PM
Celerina Patricia Sanchez Santiago is Ñuu Savi activist from Mesón de Guadalupe, municipality of San Juan Mixtepec, District of Santiago Juxtlahuaca, Oaxaca. She will present on the impact of indigenous women's activism and how today, in Mexico, there is a big discussion and movement that once again brings to the table the viewpoints of indigenous women and their relationship with Mexican society.
Celestina Carmela Pascualeño Bello is Nahua educator from the low mountain region in the state of Guerrero, Mexico. As a teacher in indigenous communities, she has been entrusted with an invaluable task. She has learned that in addition to fighting for land and social justice, she must also teach Nahua children to fight the speech that is used against them. Celestina takes action beyond her classroom, and empowers girls and boys on the importance of their culture, their language and cultural identity, to start a better path.
This event will be in Spanish.
Sponsored by the Center for Latin American Studies and the Behner Stiefel Center for Brazilian Studies. Made possible by the SDSU Instructionally Related Activities fund.


Race, Racism and Resistance in Latin American lecture series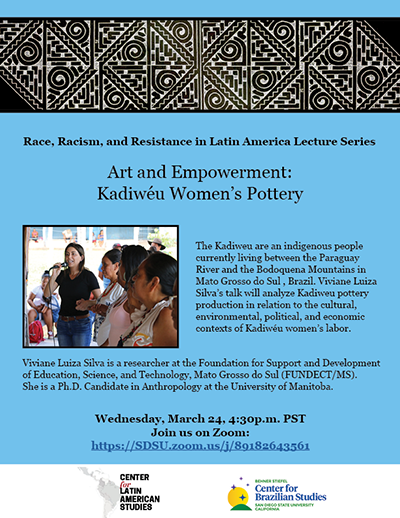 Art and Empowerment: Kadiwéu Women's Pottery
March 24, 2021
4:30p.m. PST
The Kadiweu are an indigenous people currently living between the Paraguay River and the Bodoquena Mountains in Mato Grosso do Sul , Brazil. Viviane Luiza Silva's talk will analyze Kadiweu pottery production in relation to the cultural, environmental, political, and economic contexts of Kadiwéu women's labor.
Viviane Luiza Silva is a researcher at the Foundation for Support and Development of Education, Science, and Technology, Mato Grosso do Sul (FUNDECT/MS). She is a Ph.D. Candidate in Anthropology at the University of Manitoba.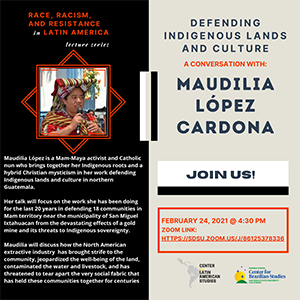 Defending Indigenous Lands and Culture
February 24, 2021
4:30 PM PST
Featuring Maudilia López Cardona
Maudilia López is a Mam-Maya activist and Catholic nun who brings together her Indigenous roots and a hybrid Christian mysticism in her work defending Indigenous lands and culture in northern Guatemala. Her talk will focus on the work she has been doing for the last 20 years in defending 18 communities in Mam territory near the municipality of San Miguel Ixtahuacan from the devastating effects of a gold mine and its threats to Indigenous sovereignty. Maudilia will discuss how the North American extractive industry has brought strife to the community, jeopardized the well-being of the land, contaminated the water and livestock, and has threatened to tear apart the very social fabric that has held these communities together for centuries.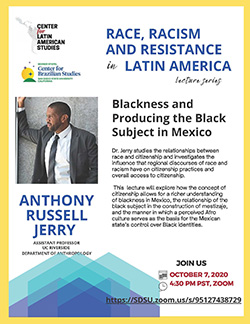 Blackness and Producing the Black Subject in Mexico
October 7, 2020
4:30 PM PST
Featuring Dr. Anthony Jerry
Dr. Jerry studies the relationships between race and citizenship and investigates the influence that regional discourses of race and racism have on citizenship practices and overall access to citizenship. This lecture will explore how the concept of citizenship allows for a richer understanding of blackness in Mexico, the relationship of the black subject in the construction of mestizaje, and the manner in which a perceived Afro culture serves as the basis for the Mexican state's control over Black identities.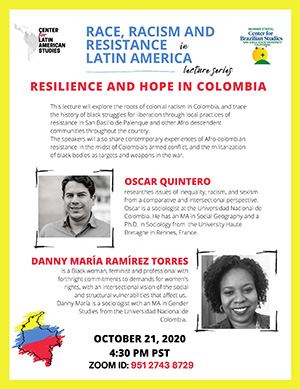 Resilience and Hope in Colombia
October 21, 2020
4:30 PM PST
Featuring Oscar Quintero and Danny María Ramírez Torres
This lecture will explore the roost of colonial racism in Colombia, and trace the history of Black struggles for liberation through local practices of resistance in San Basilio de Palenque and other Afro-descendent communities throughout the country. The speakers will also share contemporary experiences of Afro-Colombian resistance in the midst of Colombia's armed conflict, and the militarization of black bodies as targets and weapons in the war.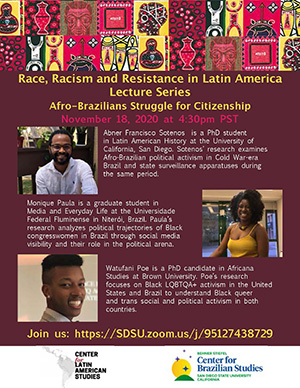 Afro-Brazilians Struggle for Citizenship
November 18, 2020
4:30 PM PST
Featuring Abner Francisco Sotenos, Monique Paula, and Watufani Poe
Abner Francisco Sotenos' research examines Afro-Brazilian political activism in Cold War-era Brazil and state surveillance apparatuses during the same period. Monique Paula's research analyzes political trajectories of Black congresswomen in Brazil through social media visibility and their role in the political arena. Watufani Poe's research focuses on Black LQBTQA+ activism in the United States and Brazil to understand Black queer and trans social and political activism in both countries.
Indigenous Women and Sustainability in the Brazilian Amazon lecture series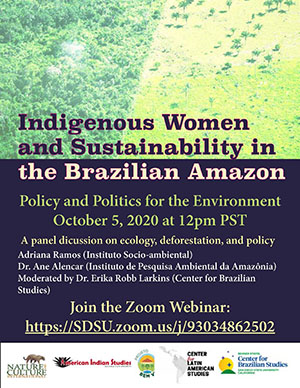 Policy and Politics for the Environment
October 5, 2020
12PM PST
https://SDSU.zoom.us/j/93034862502
A panel discussion on ecology, deforestation, and policy. Featuring Adriana Ramos and Dr. Ane Alencar, moderated by Dr. Erika Robb Larkins.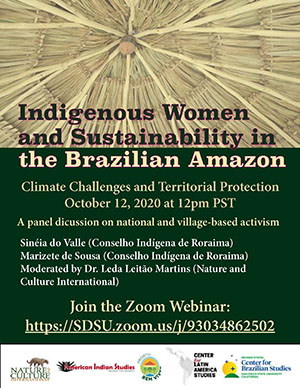 Climate Challenges and Territorial Protection
October 12, 2020
12PM PST
https://SDSU.zoom.us/j/93034862502
A panel discussion on national and village-based activism, featuring Sinéia do Valle and Marizate de Sousa and moderated by Dr. Leda Leitão Martins.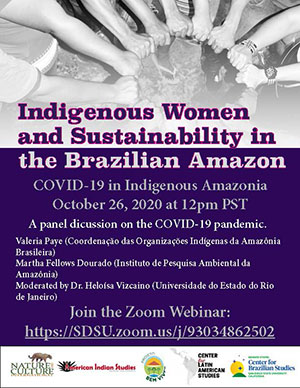 COVID-19 in Indigenous Amazonia
October 26, 2020
12PM PST
https://SDSU.zoom.us/j/93034862502
A panel discussion on the COVID-19 pandemic featuring Valeria Paye and Martha Fellow Dourado. Discussion to be moderated by Dr. Heloísa Vizcaino.

Recent News
Student Research Symposium
Congratulations to all of the students who participated in the 2020 Student Research Symposium and to our award winners:
Ivette Lorona, President's Award
Paola Díaz de Regules, Provost's Award: Professional Studies and Fine Arts
Hannah Sandoval, Provost's Award: Arts and Letters
Below are the titles of our students' projects, for more information and the project abstracts see the SRS official website.
Establishing a Qualitative Understanding of the Drinking Water and Sanitation Infrastructure in Rural Oaxaca, Mexico
Alexandra Fox, Environmental Health/Latin American Studies
Implementation of Ethno-Studies Curriculum in Barranquilla, Colombia: Towards Inclusivity of the Afro-Colombian Populations
Hannah Sandoval, Latin American Studies
A Qualitative Understanding of the Migration Experience in Mexico
Martín Ibarra, Health Promotion & Behavioral Science/Latin American Studies
Nongovernmental Organizations in Mexico:Impacts on Food Policy
Paola Díaz de Regules, Public Administration/Latin American Studies
The Right to Health Care: Central American Asylum Seekers in Chiapas, Mexico
Ivette Lorona, Health Promotion & Behavioral Science/Latin American Studies
Examining Organizational Readiness Determinants Using the Consolidated Framework for Implementation Research (CFIR) Framework in FQHCs to Implement Health Promotion Programs
Sophia Rodriguez, Public Health/Latin American Studies
Medical Pluralism and Factors Influencing Health Care Decision-Making in a Rural Paraguayan Community
Jennifer Schneider, Health Promotion & Behavioral Science/Latin American Studies
Perceptions and Attitudes on the Increase of Caesarean Section Within Oaxaca
Amelia Torres, Public Health/Latin American Studies
U.S. Students of Indigenous Descent Returning into the Mexican Educational System
Luis Betancourt, Latin American Studies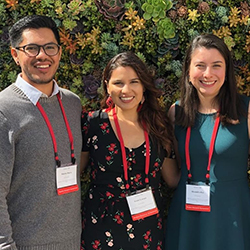 Left to right: Martín Ibarra, Ivette Lorona, and Alexandra Fox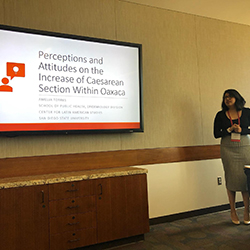 Amelia Torres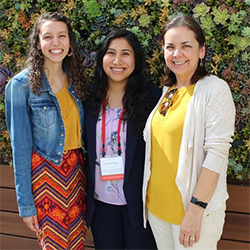 Left to right: Jennifer Schneider, Sophia Rodriguez, and Friend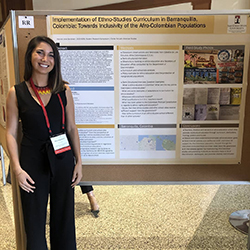 Hannah Sandoval
Other News In Brief
The

Native and Indigenous Healing Garden

is scheduled to open on March 21 as part of the university's annual Explore SDSU all-campus event. The garden is part of the Aztec Identity Initiative, chaired by Dr. Ramona Pérez.




Congratulations to Anthro major,

Delana Delgado, for her

honorable mention in the

2019 SDSU Be International Photo Contest

.

Her photo, "Los Danzantes Resilientes," was taken during our summer study abroad program in

Oaxaca, Mexico

.


Meet

Mundo Azteca's

founder,

Arturo Garcia.

Created six years ago, this section on the

Daily Aztec, represents the Latinx community at SDSU.




Congratulations to

Dr. Ramona Pérez, who has been

elected to serve as president-elect/vice president

(2019-2021) for the American Anthropological Association (AAA). Dr. Pérez will begin her term at the AAA's Annual Meeting in November and will assume the office of president at the 2021 Meeting. The AAA is the world's largest association for professional anthropologists, with more than 10,000 members.