News & Events


Upcoming Events
Race, Racism and Resistance in Latin American lecture series
Defending Indigenous Lands and Culture
February 24, 2021
4:30 PM PST
https://SDSU.zoom.us/j/86125378336
Featuring Maudilia López Cardona
Maudilia López is a Mam-Maya activist and Catholic nun who brings together her Indigenous roots and a hybrid Christian mysticism in her work defending Indigenous lands and culture in northern Guatemala. Her talk will focus on the work she has been doing for the last 20 years in defending 18 communities in Mam territory near the municipality of San Miguel Ixtahuacan from the devastating effects of a gold mine and its threats to Indigenous sovereignty. Maudilia will discuss how the North American extractive industry has brought strife to the community, jeopardized the well-being of the land, contaminated the water and livestock, and has threatened to tear apart the very social fabric that has held these communities together for centuries.
Race, Racism and Resistance in Latin American lecture series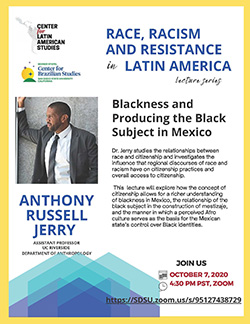 Blackness and Producing the Black Subject in Mexico
October 7, 2020
4:30 PM PST
https://SDSU.zoom.us/s/95127438729
Featuring Dr. Anthony Jerry
Dr. Jerry studies the relationships between race and citizenship and investigates the influence that regional discourses of race and racism have on citizenship practices and overall access to citizenship. This lecture will explore how the concept of citizenship allows for a richer understanding of blackness in Mexico, the relationship of the black subject in the construction of mestizaje, and the manner in which a perceived Afro culture serves as the basis for the Mexican state's control over Black identities.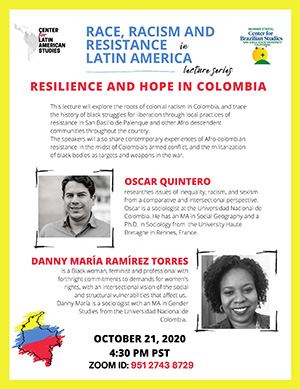 Resilience and Hope in Colombia
October 21, 2020
4:30 PM PST
https://SDSU.zoom.us/s/95127438729
Featuring Oscar Quintero and Danny María Ramírez Torres
This lecture will explore the roost of colonial racism in Colombia, and trace the history of Black struggles for liberation through local practices of resistance in San Basilio de Palenque and other Afro-descendent communities throughout the country. The speakers will also share contemporary experiences of Afro-Colombian resistance in the midst of Colombia's armed conflict, and the militarization of black bodies as targets and weapons in the war.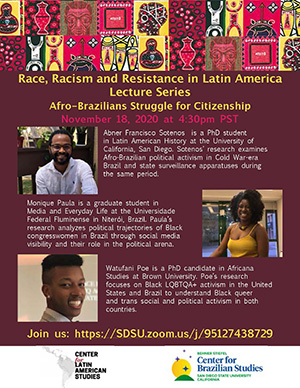 Afro-Brazilians Struggle for Citizenship
November 18, 2020
4:30 PM PST
https://SDSU.zoom.us/s/95127438729
Featuring Abner Francisco Sotenos, Monique Paula, and Watufani Poe
Abner Francisco Sotenos' research examines Afro-Brazilian political activism in Cold War-era Brazil and state surveillance apparatuses during the same period. Monique Paula's research analyzes political trajectories of Black congresswomen in Brazil through social media visibility and their role in the political arena. Watufani Poe's research focuses on Black LQBTQA+ activism in the United States and Brazil to understand Black queer and trans social and political activism in both countries.
Indigenous Women and Sustainability in the Brazilian Amazon lecture series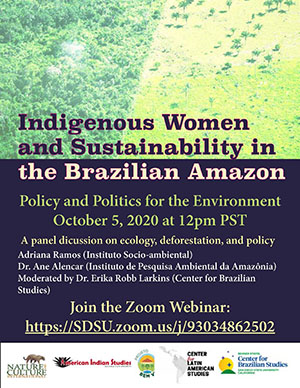 Policy and Politics for the Environment
October 5, 2020
12PM PST
https://SDSU.zoom.us/j/93034862502
A panel discussion on ecology, deforestation, and policy. Featuring Adriana Ramos and Dr. Ane Alencar, moderated by Dr. Erika Robb Larkins.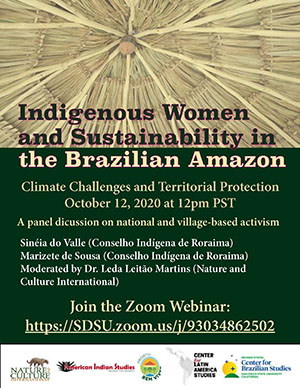 Climate Challenges and Territorial Protection
October 12, 2020
12PM PST
https://SDSU.zoom.us/j/93034862502
A panel discussion on national and village-based activism, featuring Sinéia do Valle and Marizate de Sousa and moderated by Dr. Leda Leitão Martins.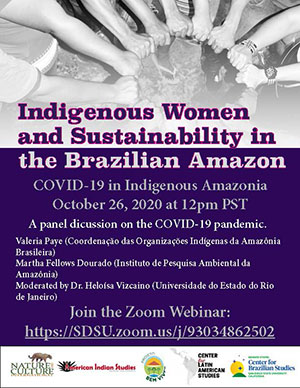 COVID-19 in Indigenous Amazonia
October 26, 2020
12PM PST
https://SDSU.zoom.us/j/93034862502
A panel discussion on the COVID-19 pandemic featuring Valeria Paye and Martha Fellow Dourado. Discussion to be moderated by Dr. Heloísa Vizcaino.

Recent News
Student Research Symposium
Congratulations to all of the students who participated in the 2020 Student Research Symposium and to our award winners:
Ivette Lorona, President's Award
Paola Díaz de Regules, Provost's Award: Professional Studies and Fine Arts
Hannah Sandoval, Provost's Award: Arts and Letters
Below are the titles of our students' projects, for more information and the project abstracts see the SRS official website.
Establishing a Qualitative Understanding of the Drinking Water and Sanitation Infrastructure in Rural Oaxaca, Mexico
Alexandra Fox, Environmental Health/Latin American Studies
Implementation of Ethno-Studies Curriculum in Barranquilla, Colombia: Towards Inclusivity of the Afro-Colombian Populations
Hannah Sandoval, Latin American Studies
A Qualitative Understanding of the Migration Experience in Mexico
Martín Ibarra, Health Promotion & Behavioral Science/Latin American Studies
Nongovernmental Organizations in Mexico:Impacts on Food Policy
Paola Díaz de Regules, Public Administration/Latin American Studies
The Right to Health Care: Central American Asylum Seekers in Chiapas, Mexico
Ivette Lorona, Health Promotion & Behavioral Science/Latin American Studies
Examining Organizational Readiness Determinants Using the Consolidated Framework for Implementation Research (CFIR) Framework in FQHCs to Implement Health Promotion Programs
Sophia Rodriguez, Public Health/Latin American Studies
Medical Pluralism and Factors Influencing Health Care Decision-Making in a Rural Paraguayan Community
Jennifer Schneider, Health Promotion & Behavioral Science/Latin American Studies
Perceptions and Attitudes on the Increase of Caesarean Section Within Oaxaca
Amelia Torres, Public Health/Latin American Studies
U.S. Students of Indigenous Descent Returning into the Mexican Educational System
Luis Betancourt, Latin American Studies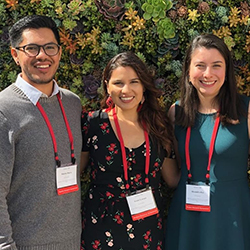 Left to right: Martín Ibarra, Ivette Lorona, and Alexandra Fox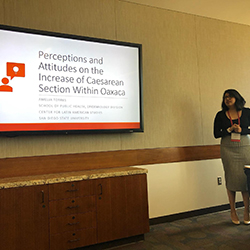 Amelia Torres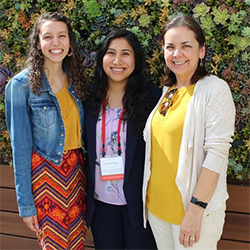 Left to right: Jennifer Schneider, Sophia Rodriguez, and Friend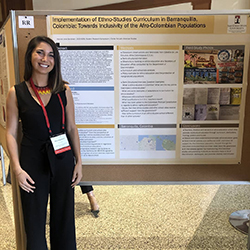 Hannah Sandoval
Other News In Brief
The

Native and Indigenous Healing Garden

is scheduled to open on March 21 as part of the university's annual Explore SDSU all-campus event. The garden is part of the Aztec Identity Initiative, chaired by Dr. Ramona Pérez.




Congratulations to Anthro major,

Delana Delgado, for her

honorable mention in the

2019 SDSU Be International Photo Contest

.

Her photo, "Los Danzantes Resilientes," was taken during our summer study abroad program in

Oaxaca, Mexico

.


Meet

Mundo Azteca's

founder,

Arturo Garcia.

Created six years ago, this section on the

Daily Aztec, represents the Latinx community at SDSU.




Congratulations to

Dr. Ramona Pérez, who has been

elected to serve as president-elect/vice president

(2019-2021) for the American Anthropological Association (AAA). Dr. Pérez will begin her term at the AAA's Annual Meeting in November and will assume the office of president at the 2021 Meeting. The AAA is the world's largest association for professional anthropologists, with more than 10,000 members.