Internships
The Center for Latin American Studies has several partnerships with local organizations in the San Diego and Tijuana area who continuously host our students.

To enroll in the LATAM 495/795 internship course, a minimum semester-long commitment is required. Students are expected to meet the minimum hourly requirement at their internship site (120 hr per semester). For more information about enrolling in an internship course, or receive course credit for an alternative internship, please contact Internship Programs Coordinator at [email protected].
If your organization is interested in hosting SDSU interns, please contact [email protected] or [email protected].

Current Internship Listings

Access Inc. is an education, career development, and immigration agency for San Diego County immigrant and youth population. Through a dedicated team of case managers, mentors, career coaches, instructors, and community partners, Access Inc. strives to provide services from a heart of compassion and commitment. Access INC. has 3 main programs which revolve around youth, immigration and micro-enterprise.
Interns can choose to work with the Workforce Innovation Opportunity Act (WIOA), which helps provide English as a Second Language (ESL) classes and Alternative Secondary Education (i.e. GED prep, tutoring, highschool diploma) to "at-promise" out-of-school youth ages 16-24.
Interns can volunteer with the Adult Education Program which offers services such as Plaza Comunitaria which helps adult students continue improving their Spanish education with the ability to earn a certificate from the Mexican Secretary of Public Education (SEP). Access also provides English as a Second Language (ESL) classes and courses in computer literacy.
The Access Inc. Microenterprise Program provides the needed resources and support to develop small businesses (businesses with fewer than 10 people) throughout San Diego. Interns can assist with business development classes and various training/tutorials to help small business owners within San Diego County.
Important Dates
Important Documents
Contact
Internship Programs Coordinator
Office: AL-377F
Email: [email protected]
Phone: (619) 594-1103

Why Access Inc?
Interns can choose to work with any of these programs - focusing on one program or a combination of the three. Access focuses on engagement within the community and students will be actively involved in providing resources to under-served populations in San Diego County.
Requirements: There are a number of different programs, some of which require no Spanish language skills and others that do require advanced proficiency

Catholic Charities Diocese of San Diego exists to exemplify the scriptural values of mercy and hospitality by Witnessing the gospel message contained in "Matthew 25:"; to advocate for a just society by Calling individuals and institutions to action on behalf of the poor, the vulnerable and the marginalized; and to acknowledge the sacredness of the human person by Accompanying those we serve on their journey toward achieving their full potential as persons created in the image and likeness of God.
Why Catholic Charities San Diego?
This is a great opportunity for anyone who is interested in helping and has the will to assist those in need. There are several areas in which an intern can be of great assistance such as helping case managers, refugees and asylum seekers in designated areas.
Preferred skills: Bilingual in another language is helpful but not required.




The Cultural Media Archive (CMA) seeks to promote dialogue between community and academy through intersectional youth centered research. The CMA will document and promote educational, visual, and charitable needs of the community, specifically by introducing cultural and educational awareness through media, charitable donations, scholarship and the production of documentary (audio, visual, and literary) materials. Interns will help collect narratives that document how first generation youth, youth of color and queer youth construct and engage notions of citizenship.
Why Cultural Media Archive?
Cultural Media Archive provides a multidimensional internship opportunity where interns work in a variety of different fields including documentary and audio recording, archival science, ethnographic research and public outreach. Interns benefit from hands-on experience with these methodologies as well as help expand meaningful interaction and collaboration between academe and community.

Excellence and Justice in Education (EJE) Academies are looking for dedicated SDSU students who are able to mentor K-8 youth at a dual-immersion (bilingual) charter school in El Cajon. This is a unique opportunity to be a part of a child's life in an encouraging and open environment. Unlike most mentoring programs, EJE Academy aims for interns to interact with youth on-campus and outside of campus to prepare their students, through mentoring, to excel in higher education and to be leaders in creating a just global society.
Why EJE Academies?
Through this program, interns will have the opportunity to take youth on field trips, help them during school time, and be a valued mentor promoting critical thinking, effective communication and helping youth become socially responsible global citizens. Interns who are interested in becoming educators can benefit from the first hand experience of managing and assisting a classroom of students.
Requirements: Students are required to attend EJE Academies at least once a week for the whole semester. Some Spanish-language skills preferred.

Mid-City Community Action Network (CAN) seeks to bring together community partners to coordinate social, health and community services advocate for change in government policies and systems, and generally work for greater community involvement and community-based decision making. Interns can work with four different teams: Food Justice, Improving Transportation, Youth Council and Peace Promotion, or volunteer with the networks Civic Engagement and Leadership Development projects.
Why Mid-City CAN?
Each team tackles a specific campaign, allowing interns hands-on experience working collaboratively with a multi-sector nonprofit. Along with their four teams, Mid-City CAN also offers interns experience working in Civic Engagement programs and Leadership Development training.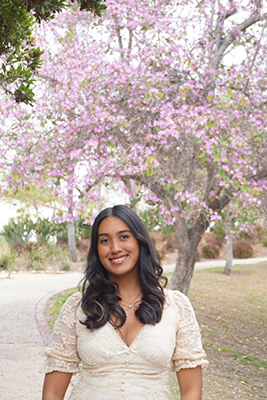 "My internship at Excellence and Justice in Education (EJE) Academies was an amazing experience. I had the opportunity to work alongside caring, devoted mentors that created a welcoming environment. They gave me the skills in leadership, communication, and patience while allowing me the freedom to guide young children in a classroom setting. During my semester at EJE I worked one on one with children; as well as leading small groups in study sessions, and had the advantage to build connections with them on a personal level. Being a part of the EJE community allowed me to be a reliable source to the children who are the focus of this institution. It was overall a rewarding experience and furthered my passion towards building a better future for children in early education. My time there will always be held in high esteem!"
- Naila Arevalo, Latin American Studies Major with a Political Science minor, Spring of 2022