Internships
The Center for Latin American Studies has several partnerships with local organizations in the San Diego and Tijuana area who continuously host our students.

To enroll in the LATAM 495/795 internship course, a minimum semester-long commitment is required. Students are expected to meet the minimum hourly requirement at their internship site (120 hr per semester). For more information about enrolling in an internship course, or receive course credit for an alternative internship, please contact Internship Programs Coordinator at [email protected].
If your organization is interested in hosting SDSU interns, please contact [email protected] or [email protected].

Current Internship Listings

Access Inc. is an education, career development, and immigration agency for San Diego County immigrant and youth population. Through a dedicated team of case managers, mentors, career coaches, instructors, and community partners, Access Inc. strives to provide services from a heart of compassion and commitment. Access INC. has 3 main programs which revolve around youth, immigration and micro-enterprise.
Interns can choose to work with the Workforce Innovation Opportunity Act (WIOA), which helps provide English as a Second Language (ESL) classes and Alternative Secondary Education (i.e. GED prep, tutoring, highschool diploma) to "at-promise" out-of-school youth ages 16-24.
Interns can volunteer with the Adult Education Program which offers services such as Plaza Comunitaria which helps adult students continue improving their Spanish education with the ability to earn a certificate from the Mexican Secretary of Public Education (SEP). Access also provides English as a Second Language (ESL) classes and courses in computer literacy.
The Access Inc. Microenterprise Program provides the needed resources and support to develop small businesses (businesses with fewer than 10 people) throughout San Diego. Interns can assist with business development classes and various training/tutorials to help small business owners within San Diego County.
Important Dates
Important Documents
Contact
Internship Programs Coordinator
Office: AL-377F
Email: [email protected]
Phone: (619) 594-8748

Why Access Inc?
Interns can choose to work with any of these programs - focusing on one program or a combination of the three. Access focuses on engagement within the community and students will be actively involved in providing resources to under-served populations in San Diego County.
Requirements: There are a number of different programs, some of which require no Spanish language skills and others that do require advanced proficiency

The Cultural Media Archive (CMA) seeks to promote dialogue between community and academy through intersectional youth centered research. The CMA will document and promote educational, visual, and charitable needs of the community, specifically by introducing cultural and educational awareness through media, charitable donations, scholarship and the production of documentary (audio, visual, and literary) materials. Interns will help collect narratives that document how first generation youth, youth of color and queer youth construct and engage notions of citizenship.
Why Cultural Media Archive?
Cultural Media Archive provides a multidimensional internship opportunity where interns work in a variety of different fields including documentary and audio recording, archival science, ethnographic research and public outreach. Interns benefit from hands-on experience with these methodologies as well as help expand meaningful interaction and collaboration between academe and community.

Allies to End Detention is a grassroots organization that seeks to uphold standards of human decency and government accountability by communicating directly with refugees and immigrants in detention in detention centers throughout the United States. These detention centers are privately-contracted facilities. It currently houses asylum-seeking refugees from Central America, South America, China, and Africa, and other countries, as well as other detainees of the Immigration and Customs Enforcement agency and the U.S. Marshal Service. There are currently over 1,000 inmates with planned expansion at various detention centers. Interns will help build organizational capacity, document refugee stories, qualitative data analysis, and media outreach to help amplify the plight of migrants and asylum seekers in detention. Many of the redacted letters can be found online at the Letter Collection.
Why Allies to End Detention?
Allies to End Detention envisions a U.S. immigration system that welcomes refugees and operates from the common sense that migration is not a crime and that detention and profit have no place in that system. Interns who are interested in immigration reform and the protection of refugees and asylum seekers will have the opportunity to understand the current state of immigration in the United States.
Requirements: Some secondary language skills (Spanish, French, Chinese, etc.) preferred

Excellence and Justice in Education (EJE) Academies are looking for dedicated SDSU students who are able to mentor K-8 youth at a dual-immersion (bilingual) charter school in El Cajon. This is a unique opportunity to be a part of a child's life in an encouraging and open environment. Unlike most mentoring programs, EJE Academy aims for interns to interact with youth on-campus and outside of campus to prepare their students, through mentoring, to excel in higher education and to be leaders in creating a just global society.
Why EJE Academies?
Through this program, interns will have the opportunity to take youth on field trips, help them during school time, and be a valued mentor promoting critical thinking, effective communication and helping youth become socially responsible global citizens. Interns who are interested in becoming educators can benefit from the first hand experience of managing and assisting a classroom of students.
Requirements: Students are required to attend EJE Academies at least once a week for the whole semester. Some Spanish-language skills preferred.

Madres and Familias Deportadas Center grew out of relationships with people in the United States who wanted to help families separated by deportation. The organization seeks to encourage a more balanced narrative about Mexico's new wave of deportees to replace the media's narrow focus on narco-trafficking and violence. The Center helps migrants, especially women with children during a tough transitional period. In collaboration with volunteers and professionals along the border region, Madres Deportadas provides a variety of services for Tijuana's migrants communities, including educational programs, and immediate support such as offering free phone services, clean clothes and water, and support to acquire identification, birth certificates, and other legal documents. Additionally, the Center works with local businesses to find jobs for people who have been repatriated. Interns have the opportunity to teach English, Spanish, and computer classes on week-night evenings as well as work as office assistance passing out flyers and educating deportees and assisting with the intake of food and clothing donations.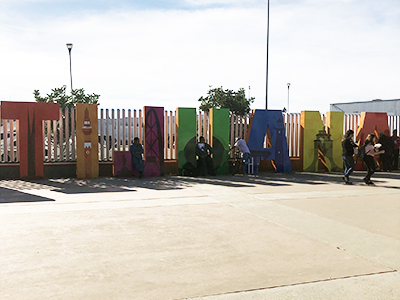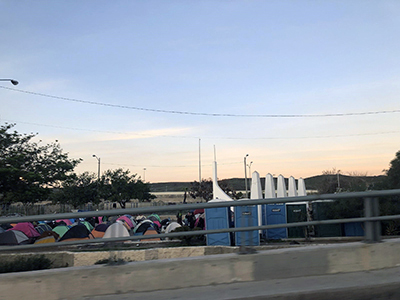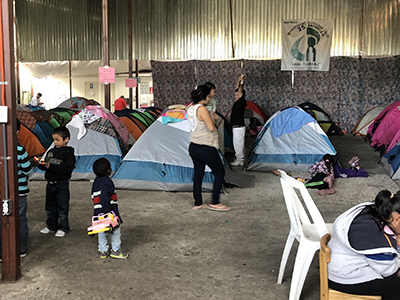 Photos provided by Hannah Sandoval, Graduate Student in Latin American Studies, Spring 2019
Why Madres y Familias Deportadas en Acción?
Traveling to the city of Tijuana, students will have unprecedented opportunities to exchange dialogue with people who have experienced deportation while assisting in education and community services. As an Omprakash partner organization, interns may also have the opportunity to complete a capstone project (research or creative) related to a border issue of their choice.

Requirements: Students interested in interning with Madres y Familias Deportadas must contact [email protected] before the semester they plan on pursuing the internship. Students who contact during the semester will not be considered as a valid passport and SDSU Travel Insurance is required to travel to Tijuana.

Mid-City Community Action Network (CAN) seeks to bring together community partners to coordinate social, health and community services advocate for change in government policies and systems, and generally work for greater community involvement and community-based decision making. Interns can work with four different teams: Food Justice, Improving Transportation, Youth Council and Peace Promotion, or volunteer with the networks Civic Engagement and Leadership Development projects.
Why Mid-City CAN?
Each team tackles a specific campaign, allowing interns hands-on experience working collaboratively with a multi-sector nonprofit. Along with their four teams, Mid-City CAN also offers interns experience working in Civic Engagement programs and Leadership Development training.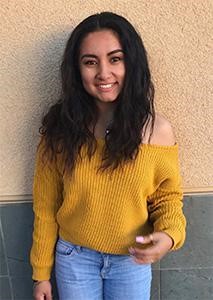 "As a Mid-City CAN intern, my experience there was incredible. I was welcomed by great Mid-City CAN staff who not only introduced me to the aspects of serving the community in City Heights, but also what it takes to be a leader. I attended meetings and trainings that provided me with key elements of how to organize movements that will bring change into the community. I worked closely with Mid-City CAN's Youth Council. Working with the youth made me realize that there is hope for the future. Providing them with a bag of tools that gives them the proper skills to be leaders and allowing them to have a voice that gives them the power to create change in their communities was one of the best experiences I have ever witnessed. Interning for Mid-City CAN also allowed me to create long lasting relationships with the staff. After completing my hours, I promised to continue volunteering my time at Mid-City CAN because it has empowered me to keep making a change."

- Chelsea Andrade, Alumna, Bachelors of Science in Criminal Justice, Minor in Child Family Development



Pro Salud is a Tijuana-based nonprofit committed to providing basic reproductive healthcare and sexual and reproductive education for families in poor rural and urban areas of Baja California, Mexico. Pro Salud believes that enabling women and men to manage their own reproductive health and the health of their children is essential for a safe and healthy community.

Why Pro Salud?
Pro Salud is one of two internships offered by CLAS which is based in Tijuana. Interns working with Pro Salud will witness how health challenges are addressed in another country while participating in special events and health fairs, ultimately helping to raise awareness of health and educational issues.

Requirements: Pro Salud requires an academic year-long commitment. Students interested in interning with Fronteras Unidas Pro Salud should contact [email protected] before the semester they plan on pursuing the internship. Students who contact during the semester will not be considered as a valid passport and SDSU Travel Insurance is required to travel to Tijuana.
Summer Internship Sites

United Way of San Diego is primarily invested in education outcomes: to set kids on the right path toward academic achievement. As part of the Readers in the Heights Summer Program, SDSU students are placed at City Heights and Lemon Grove elementary school sites to assist in the management and coordination of volunteers, reading materials, literacy activities, and any other necessary day-to-day logistics.
Why United Way?
Students work with youth and families, providing target support to boost student literacy and help students continue to read over the summer. Programs like Readers in the Heights, keep students reading over the summer, and help boost family engagement. Last year, 86% of children who participated in Readers in the Heights maintained or increased their literacy levels.