Message from the Directora 2021/2022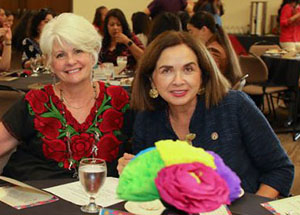 Welcome to the 2021-2022 academic year! We are back on campus, fully masked, and trying to figure out how to greet each other without the affectionate hug that is a cultural tradition for so many of us. Every encounter feels somehow incomplete without it. We are grateful for the ability to be back in a face-to-face scenario but also, we recognize that the last 17 months (and counting) have been difficult for all of us. In a very short period, we have experienced traumas that most don't experience over a lifetime – we have lost loved ones to the pandemic, confronted racial violence, protested in person or virtually against its continuation, suffered job and housing losses, and experienced devastation from climate change as our planet heats up and nature lashes out at us. As I noted in last year's message, the changes to our lives that have occurred and will continue to unfold, are not going away. Our lives have been redefined by external realities, some of which we can control, most of which we cannot. We are not, however, powerless. We can take charge of our own reactions and responses and empower those around us to do the same through our example.
As difficult as it is for all of us, now is not the time to walk away from what we started out to do when we entered this academic journey. On the contrary, now is the time to double down on learning and research – all research – and continue with our advocacy for the future. Whether your research investigates the origins of racialized discourse in Latin America, the inequities of healthcare from structural violence in the region, the impact of oral storytelling on cultural retention, the documentation of Indigenous farming techniques in urban spaces, or any other topic, your research matters and we are here to support you as you move forward.
As we re-enter the classroom, we will strive to create a welcoming and safe environment for all of us. Our teaching will continue to reach beyond the US academy as we integrate the scholarship of our Latin American and other global colleagues. We encourage you in your own research to seek out the work of local scholars and to hold participatory research as a standard in your investigations. The staff and faculty of the CLAS remain dedicated to collaboration with our colleagues throughout Latin America as we work together to address the needs of our communities locally and globally. Our ability to travel beyond our borders remains limited. While our vaccinations allow us to travel more safely, those areas that remain extremely vulnerable to the pandemic, who are undergoing severe social, economic, or political unrest, or who are experiencing the repercussions of natural disasters will require that we find virtual ways of engaging. We can help you adjust and create meaningful relationships in a virtual environment. We ask that you not abandon your interest but rather, seek ways to engage that are respectful, inclusive, and participatory. On a more local level, we have numerous internships that allow you to join the struggles against racism and injustice through collaboration with our communities on both sides of the border. And as always, we ask you to broaden your worldview by learning one of the languages of the pueblos originarios that are taught by maternal speakers through CLAS.
The Center for Latin American Studies will continue to offer a safe and open space for you to come in and study, write, practice your Spanish/Mixtec/Nahuatl/Portuguese, or just hang out. All of us in the CLAS are here to answer your questions, help you navigate the university and the many resources that are available, and guide you through your research and academic career. We will keep you apprised of the changes in policy and procedure as they unfold and ask for your patience, generosity in spirit, and respect for each other as we all navigate these difficult times.
While we cannot greet you with a hug, we will greet you with a hand to our heart and a smile in our eyes as we peer over our masks! Welcome to the Center for Latin American Studies, to the College of Arts and Letters, and to your future at San Diego State University.
Past Messages